10 Actionable Steps to Prepare for IELTS and Achieve Success
May 23, 2023
2023-05-26 6:58
10 Actionable Steps to Prepare for IELTS and Achieve Success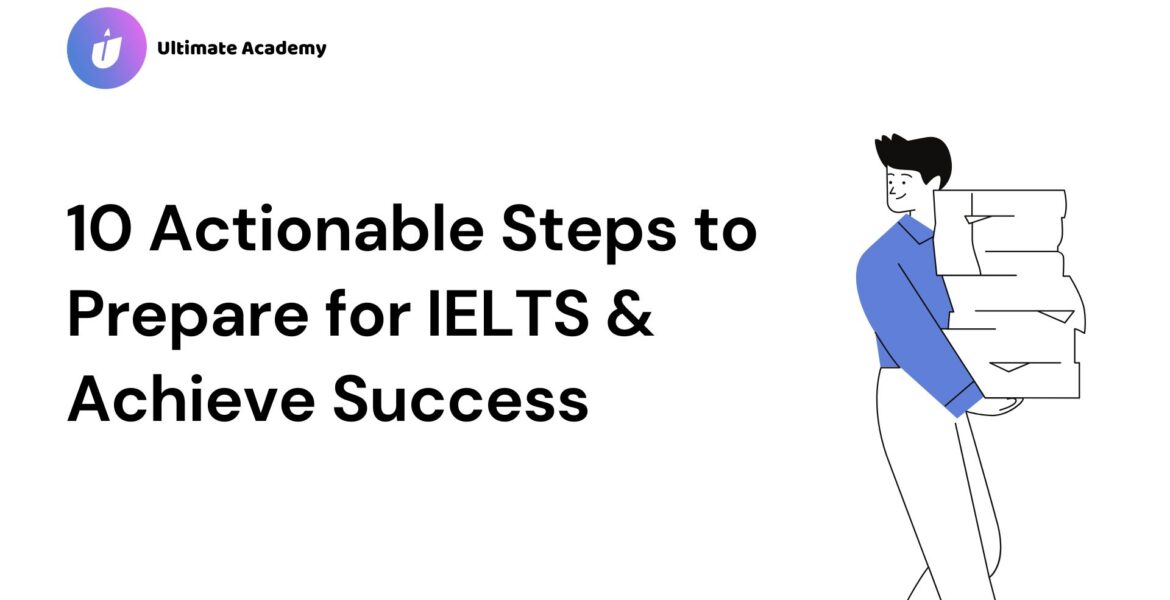 10 Actionable Steps to Prepare for IELTS and Achieve Success
Prepare for IELTS like never before and unlock the key to achieving your desired band score.
The secret lies in effective at-home study techniques that not only enhance your skills but also make learning enjoyable.
Discover the following strategies that have proven successful for countless students:
1. Lyrics Training: Master English Through Music
Take your English language skills to the next level by incorporating music into your study routine.
With Lyrics Training, you can improve your vocabulary, grammar, pronunciation, and listening skills while having fun. This interactive platform engages you in gap-fill exercises based on song lyrics, making language learning an exciting experience.
2. Immerse Yourself in an English-Speaking Environment
Nothing compares to regular interactions with native English speakers. Seek out expat communities, social events, and language exchange programs in your area.
Websites like meetup.com and internations can connect you with like-minded individuals who share your interests.
Additionally, consider online language exchange services via Zoom to practice conversational English with enthusiastic language learners from around the world.

Here's my guide that will help you to get fluent in English in 30 days.
3. Explore YouTube for Authentic English Content
Tap into the vast resources of YouTube to access authentic English content and expose yourself to different accents.
Discover popular videos and channels from English-speaking countries to improve your listening skills and expand your vocabulary.
Engage with the content by leaving comments and interacting with other viewers, fostering a dynamic learning environment.
4. Utilize Movies as a Language Learning Tool
Transform your movie-watching sessions into powerful English language practice.
Download movie scripts and engage in role-playing exercises, either individually or with a group.
Pay attention to actors' stress, intonation, and expressions to improve your speaking skills.
Along the way, you'll encounter new words and phrases that can be added to your vocabulary log.
5. Pursue Your Passions in English
Break free from monotonous IELTS textbooks and explore subjects that truly interest you.
Engaging with topics you are passionate about not only enhances your language skills but also makes learning enjoyable.
Discover English-language blogs and podcasts related to your interests, allowing you to read, listen, and interact while improving your language proficiency.
6. Start Your Own Blog for Writing Practice
Embrace the power of blogging to develop your writing skills and connect with an online community.
Create a blog on platforms like WordPress, where you can share your thoughts, essays, and experiences.
Seek feedback from teachers, students, and IELTS-focused forums and Facebook groups to receive valuable input and improve your writing abilities.

To further enhance your IELTS Writing preparation and uncover two crucial tips for achieving an 8+ band score, check out our blog post: "2 Tips To Get 8+ Band in IELTS Writing: Prepare For IELTS."
7. Leverage Free Resources and Expert Advice
Take advantage of the wealth of free resources available for IELTS preparation.
In addition to this blog, explore our Free MasterClass on IELTS Speaking. Join our Facebook page to stay updated on the latest tips and guidance.
Integrating these resources into your social media feeds ensures you receive valuable advice, motivating you to stay focused on your IELTS goals.
8. Enhance Your Listening Skills with Podcasts
Take advantage of podcasts to enhance your English language skills on the go. Download podcast apps like Stitcher and explore a wide range of podcasts that cater to your interests.
Discover podcasts that cover IELTS-related topics, as well as subjects such as education, health, technology, and the environment.
Listening to informative and engaging discussions will help you generate ideas, expand your vocabulary, and refine your listening abilities.

Unlock the secrets to acing the IELTS Listening section with our latest blog post: "3 Tips To Get 8+ Band in IELTS Listening: Prepare For IELTS."
9. Gain Insight from Inspiring TED Talks
TED Talks offer a wealth of knowledge, inspiration, and language practice.
Explore TED Talks on topics commonly covered in the IELTS exam, such as education, health, technology, and the environment.
By watching these talks, you'll develop a deeper understanding of these subjects while expanding your vocabulary and refining your listening skills.
10. Foster English Language Usage at Home
Utilize the language-learning potential within your own home by engaging in daily conversations with family members or housemates who are also learning English.
Dedicate at least 30 minutes each day to conversing in English, focusing on natural and casual topics.
Consistent practice, even on non-IELTS related subjects, yields greater results than cramming before the exam.
Embrace English as the language of choice within your home and witness your progress soar.

Prepare for IELTS in a comprehensive and enjoyable manner by integrating these strategies into your study routine.
Empower yourself with a range of dynamic resources and opportunities for language practice.
With determination, consistency, and the right tools, you'll be well on your way to achieving your desired band score and success in the IELTS exam.
---
If you liked this article, you'll absolutely love the Free MasterClass on IELTS on Ultimate Academy.
In it, I'll teach you how to increase your score by 1 Band overnight.
Here's the link to watch it: IELTS MasterClass
---

New to IELTS? Here are some FAQs you might have
What is IELTS?
IELTS stands for the International English Language Testing System. It is a standardized test designed to assess the English language proficiency of non-native English speakers for academic or immigration purposes.
What is the format of the IELTS exam?
The IELTS exam consists of four sections: Listening, Reading, Writing, and Speaking. The Listening and Speaking sections are the same for both the Academic and General Training modules, while the Reading and Writing sections differ based on the module.
How is the IELTS exam scored?
The IELTS exam is scored on a scale of 1 to 9, with 9 being the highest. Each section (Listening, Reading, Writing, and Speaking) receives a band score, and the overall band score is the average of the four section scores.
How long is the IELTS exam?
The total duration of the IELTS exam is approximately 2 hours and 45 minutes. The Listening, Reading, and Writing sections are conducted consecutively without breaks, while the Speaking section may be scheduled on the same day or within a 7-day window.
How often is the IELTS exam conducted?
The IELTS exam is conducted multiple times throughout the year, with test dates available on a regular basis. It is advisable to check the official IELTS website or contact your local test center for the specific test dates and registration information.
Can I choose between the Academic and General Training modules?
Yes, test takers can choose between the Academic and General Training modules based on their specific requirements. The Academic module is suitable for individuals seeking admission to higher education institutions, while the General Training module is typically used for immigration purposes or professional registration.
How can I prepare for the IELTS exam?
Preparing for the IELTS exam involves familiarizing yourself with the test format, practicing sample questions, improving your English language skills, and developing test-taking strategies. It is advisable to use a variety of study materials, such as textbooks, online resources, and mock tests, to enhance your preparation.
Is there a passing score for the IELTS exam?
There is no specific passing score for the IELTS exam. The score requirements vary depending on the institution or organization that requires the test results. It is important to check the specific score requirements of the institution or immigration authority you are applying to.
How long are the IELTS scores valid?
The IELTS scores are valid for a period of two years from the date of the test. After the two-year validity period, the scores expire, and you may need to retake the exam if required.
Can I retake the IELTS exam if I am not satisfied with my scores?
Yes, you can retake the IELTS exam if you are not satisfied with your scores. There are no restrictions on the number of times you can take the test. However, it is important to check the policies of your chosen institutions or organizations regarding score validity and retake requirements.